Educators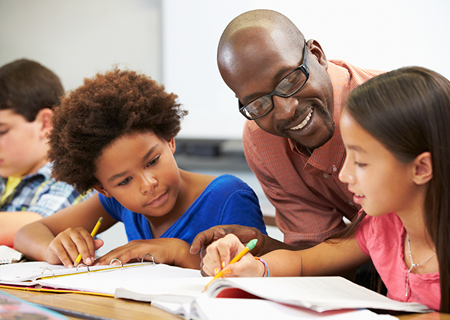 Compass believes Christian educators are missionaries called to the largest "across the street" mission field in our nation. As educators, you have the opportunity to build relationships with hundreds and maybe even thousands of students over the course of your career. Compass wants to come along side you, helping you to understand specific ways you can live and share your faith in school and support you in doing so. We can connect you to each other and to Christian families, and provide you with the resources you need to make an impact for Christ on your campus. Our prayer is that, as you identify ways for truth and righteousness to flourish in your classroom and are empowered to live out your faith there, our schools will be transformed by the love and truth of Jesus Christ.
What Can You Do To Live Out Your Faith Within Your School?
Pray faithfully for your school, your colleagues and your students.

Sponsor a student-led bible study on campus before or after school if approached by a student. Be in prayer for this opportunity!!

Build Christian community by starting or participating in a bible study or prayer group with other staff members within your school or district before or after contract hours.

Understand your rights as Christian educators within the public schools and be prepared to defend them.

Support and encourage students as they exercise their freedom to share their faith in classroom discussions and in their homework assignments.

As opportunities arise, be bold in sharing your faith with colleagues.
Creating Christian Community in Your School
Compass seeks to create communities of Christian educators within local schools and their districts. As Christians come together within the public schools, they are able to provide support and encouragement to each other and be in corporate prayer for their students, colleagues, schools and districts. Educator prayer groups are being established in schools all over the nation. These groups are meeting during non-contracted hours on campus to be in fellowship, share praises and prayer requests, and come together in prayer before the Lord. In addition to groups at local schools, God is bringing together educators and forming district-wide "Staff for Christ" groups. These groups meet as a large group several times a year but informally for accountability, encouragement and prayer throughout the year. If you are interested in connecting with other Christian educators, or starting a school-based or district-wide group, contact Compass at compassinfo@compasslink.org. Training is provided.
Helping you Understand Your Rights
It is important as educators within the public schools to understand your rights as Christians within these walls. Although teachers cannot establish religion in their classrooms, there are many ways you can live and express your faith legally and respectfully. You can also encourage and create opportunities for students to live and share their faith. A helpful resource outlining these rights, Free to Speak, is provided to us by Gateways to Better Education, https://gogateways.org/store/free-to-speak-pamphlet.
To view the government guidelines on religion and prayer in schools at the Department of Education website, also see https://www2.ed.gov/policy/gen/guid/religionandschools/index.html,
Helping You Deepen Your Faith and Prepare You for Impact
Educator Commissioning Services
Grace Church holds annual Educator Commissioning Services in September at the beginning of every school year. This is a special time when the church prays a blessing over their local educators as they prepare to head out to the mission fields of their schools. Encourage your church leadership to consider a similar tradition. See a recent commissioning service from Grace Church here video.
Annual Educator Breakfasts
Compass holds an Annual Educator Breakfast in November of each year to bring together the larger community of Christian educators throughout the area. We use this time to "love up" our educators, providing them not only with a free breakfast and generous gifts, but equipping them by bringing in speakers to inform on relevant topics. Educators find this an important time to come together in community for prayer and worship and connect with a larger body of believers sharing the same mission field.For information regarding the next Educator Breakfast, go to "Compass Calendar of Events " at www.compasslink.org/events. SAVE THE DATE for our next breakfast, November 19th, 2022. Join our email list for more information and updates.
Compass holds annual equipping retreats for our educators during the summer months. During this time together you are encouraged in your role as missionary in the public school system and given tools on a variety of topics including work/life balance and time management, learning valuable ways you can navigate the culture, bringing your faith into your classroom both authentically and legally, and gaining vision for not only how to get through the school year but to see how God can use you right where you are!
Compass partners with CEAI to host AWAKE Experiences for our educators. AWAKE is a one day transformational experience for Christian educators that will open your eyes to how God is using you as an ambassador in your public school. During this time you will have intentional time alone with God, connect with other Christian educators, dig into God's Word and apply biblical truths to your life, receive training in legal freedoms for public school educators, and discover truths that will transform the way you see your job as an educator. For more information go to www.ceai.org/awake. Our next AWAKE event will be in Eden Prairie, MN on February 12th, 2022 at Grace Church. Register here https://rb.gy/a6hqrh.
Compass educators, parents and students come together throughout the school year for prayer for our schools and those within their walls. God calls us to "Be joyful in hope, patient in affliction, and faithful in prayer" Romans 12:12. See our calendar of events for times and dates. www.compasslink.org/events.
Connecting You to a Broader Christian Educator Association
Compass partners with Christian Educators Association International. CEAI is a professional association for Christian Educators and their mission is to "encourage, equip, and empower educators according to Biblical principles." CEAI makes available professional liability insurance and assistance in job action situations for their members. For more information go to www.ceai.org.
International School Project
You can have an impact on teachers around the world. Come travel on an ISP Trip, International School Project, as a small group facilitator during your summer break. We are reaching and equipping teachers around the world. For more information and details about trips, you may contact; Noelle Gebel. noelle.gebel@isponline.org. www.isponline.org.
If you are a Christian educator in the public schools and would like more information, please contact us at compassinfo@compasslink.org.
Important Links and Resources
Free to Speak Pamphlet, Gateways to Better Education, https://gogateways.org/store/free-to-speak-pamphlet
Gateways to Better Education Campaign, https://gogateways.org/articles/2018/1/31/national-free-to-speak-campaign
AWAKE Experience, www.ceai.org/awake
Christian Educators Association International, www.ceai.org
US Government Guidelines on Religion and Prayer in Schools, http://www2.ed.gov/policy/gen/guid/religionandschools/prayer_guidance.html?
Classroom Posters:
Fruit of the Spirit, 5x11